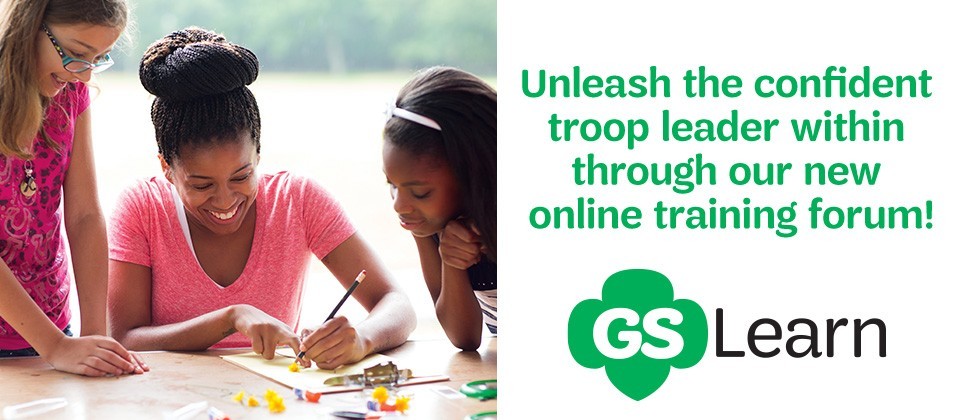 Volunteer Training and Development
Volunteer learning is offered in varied methods to best meet your unique learning styles: written resources, face-to-face learning, interactive online learning – and additional methods are being developed and tested all the time.
One of our favorite volunteer development series are IGNITE leadership retreats. These are half-day, full-day, or weekend-long conferences that offer a variety of workshops to enhance your leadership skills. Each IGNITE offers different workshops for new and experienced leaders so that you can keep coming back year after year.
 
Online Courses Through gsLearn
Introducing gsLearn – an online training platform for troop leaders! Access courses on-the-go, track your progress, and more by signing into your My GS account  and clicking on the gsLearn button.
The first time you log in, it may take up to 30 minutes to see the courses that are available to you. The GSKH Required Training for Troop Leaders Learning Path as well as GSUSA's Successful Leader Learning Series are now available for all active volunteers. In addition, volunteers will be able to upload certifications from external providers such as First Aid/CPR, Lifeguard, and others.
All trainings are available to all members and some are designated to be taken by volunteers serving in specific roles in the council. Details are provided in the training descriptions.
Should a module not appear, click on the screen to initiate.  
*If you do not see a gsLearn Option after logging into MyGS, please contact Customer Care at 1 (888)686-6468 or info@gskh.org for assistance.
Below are some of the Learning Paths and Courses you may find on gsLearn.

GSKH Required Training for Troop Leaders Learning Path
Includes Introduction to Troop Management, Financial Management, Safety Wise and First Aid/CPR.  First Aid/CPR must have an in person testing component and can be completed with a GSKH/National Safety Council course or through another provider.  The First Aid/CPR course provided in this learning path allows you to upload a certificate for a course completed with another provider for approval.
Experienced Troop Leaders who have already completed ITM, FM, and SW training in person or via the previous online video series *do not* need to complete them again in the gsLearn system.
Checking account signers who are not also Troop Leaders only need to complete the Financial Management course.

GSKH Financial Management
This course is required for all Troop Leaders, Troop Product Sales Managers, Service Unit Treasurers and Product Sales Organizers, and any volunteer who will be a signer on a checking account.

GSKH Safety-Wise
Safety-Wise: Keeping Your Troop Safe is encouraged for ALL volunteers who work directly with girls – including Troop Support Volunteers and Event Volunteers. It is required for Troop Leaders, Product Sales Managers, Event Coordinators, and select Service Unit LEAD team positions.

GSKH Bridging 101
This course will give you an understanding of the steps required to help girls bridge to the next level of Girl Scouting.

Even More
There will be short supplement modules to explore a variety of topics. Our Volunteer Learning team is creating even more online learning modules—so stayed tuned for updates!
Need a hand?
For technical help or other questions, email us or call 1(888) 686-6468.
 
Supplemental & Advanced Learning Opportunities
Badge Explorer

Get all the latest details and shop links for every topic and grade level.

Badge Resource Kits

There are Badge Resource Kits to help Girl Scouts explore new badges, topics, or just for fun!

Look through this guide and request a kit through our online form for pick-up at your nearest council office. It may take up to 3 weeks to transfer kits between offices. Kits have suggested levels and badges, but feel free to get creative with them! Some kits require a refundable deposit of $100/kit.

IGNITE: Fall, Winter, and Spring workshops

These half-day or full-day adult learning opportunities offer sessions on a variety of topics that enhance your leadership skills and spark ideas for your troop. At an IGNITE, you might learn a new team-building game, celebrate a Girl Scout tradition, gain archery skills, try a new outdoor cooking technique, or experiment with STEAM (science, technology, engineering, art, and math). Find information about upcoming IGNITE sessions on the Events page!

IGNITE: Leadership Retreat

Held annually on the 2nd weekend of June, the IGNITE: Leadership Retreat weekend is a great opportunity for all volunteers to become campers while gaining an abundance of quality Girl Scout knowledge. This retreat is held at the Starwoods Outdoor Center in Clearwater and begins on a Friday evening with workshops and lots of fun throughout the weekend.

Volunteers who register to attend participate in a variety of camp experiences such as waterfront activities, shooting sports, the Adventure Course, and workshops covering topics relevant to their roles with Girl Scouts. Each IGNITE session is unique, containing something new to learn and experience so volunteers can keep coming back year after year.

Volunteer Toolkit

The Volunteer Toolkit is your official source for delivering fun, easy troop meetings year-round! You will find video trainings on gsLearn as well as a handy step-by-step Volunteer Toolkit User Guide.
Outdoor and Adventure Learning Opportunities:
Outdoor Basics - Home Study

This online course is a pre-requisite to the Outdoor Camping, Cabin Camping and Backpacking courses. It is also required for a Troop Leader who wants to take girls into nature for hikes, walks in the park and exploring nature without building a fire. For grilling hotdogs, s'mores, etc. you will need to take either Cabin Camping or Outdoor Camping.

Find the Outdoor Basics – Home Study course in the gsLearn environment. An assessment must be completed before eligible for live sessions.

Cabin Camping

This day long course is for volunteers planning an overnight stay with girls in a walled facility such as Starwoods, KOA Cabins, State Park Cabins. (If pitching a tent and participating in more in-depth wilderness type activities, you'll need to take the Outdoor Camping course).

Cabin Camping will prepare volunteers to introduce girls to outside adventures. At the end of this course, participants will know how to cabin camp, use a propane stove, cook over charcoal, and will have gained knowledge of many outdoor skills including health and safety, meal planning, troop and individual packing, Kaper Charts, knot tying, knife safety and protection of the natural world. All of these activities are part of the Girl Scout Leadership Experience.

Ambassador Girl Scouts may take this course. Pre-Requisite to this course is Outdoor Basics.


 

Outdoor Camping

This overnight course combines the Cabin Camping course curriculum with a deeper knowledge of outdoor camping experiences. This is required for any camping experiences outside of a cabin/walled facility.

After completing this course, volunteers will be able to take their girls on a camping trip. You'll learn about health and safety procedures, how to set up a campsite and the equipment needed, tent pitching, troop and individual packing, Kaper Charts, meal planning and preparation, multiple methods of cooking, dishwashing, starting a woodfire, compass and trail signs, Leave No Trace principles, and tying these experiences to the Girl Scout Leadership Experience.

Ambassador Girl Scouts may take this course. Pre-Requisite to this course is Outdoor Basics.

Small Craft Safety

The Small Craft Safety (Canoeing and Kayaking) course offered at Girl Scouts of Kansas Heartland is offered a couple of times per year. This course will allow you to be able to facilitate a canoeing or kayaking experience course for girls.

Check out the events calendar for more information on upcoming Small Craft Safety courses offered at GSKH.

Starwood's Activities - Challenge Course (low ropes), Traverse Wall, Telescopes

Starwoods Outdoor Center has much to offer! Training for the Challenge Course (low ropes), Traverse Wall, and Telescopes is required before facilitating these activities during a troop campout. These trainings are often included in IGNITE: Leadership workshops or retreats that take place at Starwoods. Groups of 5-15 volunteers may also request a training date by emailing info@gskh.org.

USA Archery

The Level 1 Archery Instructor Certification Course provides graduates the necessary tools to maintain a high level of safety both on and off the archery range and ensures that minimum standards for archery instruction are consistently taught to provide for the safety and enjoyment of the participants, instructors and spectators. Level 1 Instructors are well prepared to teach beginner archery programs to people of all ages and abilities in a variety of both indoor and outdoor settings in the disciplines of target, field or 3-D archery. The Level 1 Instructor will learn about range safety, range setup, the steps of shooting, equipment and repair, programs and lesson plans. Pre-requisites: USA Archery membership and range pass.

Watch the events calendar for GSKH courses coming soon.
Required Training for Troop Leaders
Intro to Troop Management - overview

Intro to Troop Management - online video series

Safety-Wise

Financial Management

First Aid & CPR
Have a training request or want to become a trainer?  Contact us at info@gskh.org.