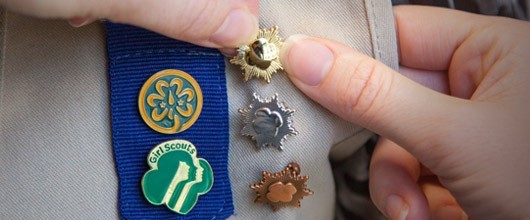 Highest Awards
The Gold, Silver, and Bronze Awards (a.k.a. "Highest Awards") are the highest honors you can earn in Girl Scouts. All three awards give you the chance to do big things while working on an issue you care about. 
To earn these awards, you'll design and implement a Highest Award Take Action project. Once you've completed your project, you'll have made a bold, sustainable impact on the world—and you'll have put in some serious work. If you're up for the challenge, we'd be honored to pin this prestigious award to your Girl Scout uniform!



Juniors
(Grades 4-5)




Cadettes
(Grades 6-8)




Seniors & Ambassadors
(Grades 9-12)

Get Inspired
The possibilities for your Highest Award Take Action project are endless—whether you want to advocate for animal rights or build a career network that encourages girls to become scientists and engineers. For inspiration, check out examples of Highest Award projects, visit Girl Scouts of the USA's Map It: Girls Changing the World.