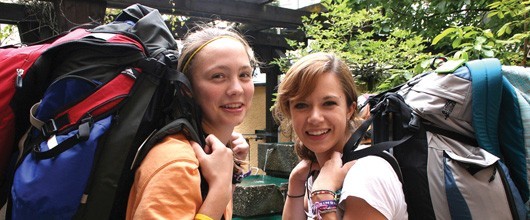 GSKH Travel
Every girl deserves a chance to see the world! Girl Scouts offers many different travel opportunities so girls can see new places, meet new people, and learn about different cultures and ideas. Whether exploring their own neighborhoods, going on overnight trips, participating in council-sponsored trips, flying to one of the four world centers, or going on a Girl Scout Destination, Girl Scouts are continually expanding their horizons.
Don't forget that girls can save Cookie Credits they earn from year to year in order to spend them on a long-range, council-approved trip (including troop trips) or a destination. Adults, we didn't leave you out! If you are interested in our travel committee or being a chaperone, please contact info@gskh.org.
Troop or Group Travel

In addition to regularly scheduled troop meetings, troops or groups of Girl Scouts often plan trips together. Some Girl Scout troops work together just for travel! Traveling can include anything from a local day trip to an international adventure. Girls and adults work together to plan, budget, and arrange trip details according to the guidelines and requirements for travel.
QuestFest Savannah
When: July 13-16, 2017
Cost: $100 includes event fee only. Transportation, food, and overnight accommodations to be determined.

This experiential scavenger hunt captured by photo or video will be hosted by Girl Scouts of Historic Georgia in and around Savannah! Each group of 10-15 Girl Scouts will complete challenges that range from fun and silly to meaningful and community service-based. Email info@gskh.org for more information and to join a contingent from our council that will be traveling there.

Activities toward badges: Create a First-Aid Kit; learn about swim safety techniques, water filtration, recycling, and conservation.
Girl Scout room rate
Local attraction packages (Kansas City)
Dozens of all-inclusive itineraries to the best destinations all over the world
Each itinerary designed just for Girl Scouts
Free international training for leaders
Many trips include the WAGGGS centers
Destinations
Girl Scout Destinations are the ultimate adventure for individual girls ages 11 and older! With different trips every year, there's something amazing for everyone to experience. Make friends from all over the country as you travel with Girl Scouts from different states, see and learn new things, and pack your bags full of inspiring, life-changing experiences and memories. Explore Destinations.