Get Involved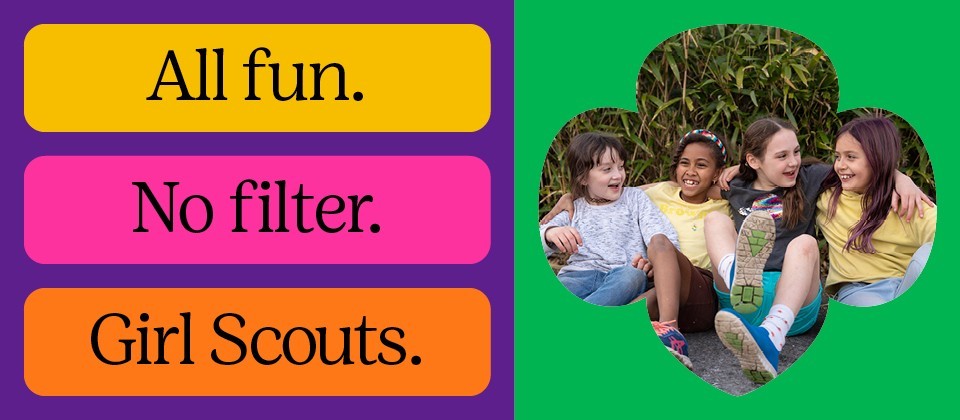 New friends. Exciting adventures. Making a difference.
Making friends, testing her strengths, exploring new possibilities. It's all here for her, and we're here for you. Email us at info@gskh.org or call at (888) 686-6468 so we can help find a troop near you!
Right now, Girl Scouts are meeting furry friends at their local animal shelters, giggling past lights-out at sleepovers, and learning how their favorite roller coasters work.
Above all else, they're having a blast—because they know bringing the fun is all about being their true selves, trying new things, and cheering each other on.
Get ready to join the crew and bring a bit more happy to your life.
Already a member? Log in to renew.
Help Girl Scouts discover their place in the world.
Ever want to forget everybody else's expectations and just…be you? When you volunteer with Girl Scouts, you'll be creating a community where being your unfiltered, goofiest, most authentic self is the absolute best thing you can be.
Our local volunteers lead with their hearts and spark imaginations. They help Girl Scouts explore unique interests and unlock their potential.
We know there are a lot of questions and things to consider when starting something new. Here are some things you might find helpful:
Upcoming Discovery Events

How to Join

We offer programs for girls from Kindergarten to high school, and girls can participate in Girl Scouts from Kindergarten to 12th grade.

Curious about when you can join? It's always a good time to join Girl Scouts! You can join whenever works best for your family. We're flexible and can tailor your girl's experience to her needs.


Membership registration tips:

Please use the same name and email address that you have submitted to Girl Scouts of Kansas Heartland in the past, either as a member or as a parent/guardian (if applicable). If you are having any trouble, contact our help desk at info@gskh.org. You can also call toll-free for customer service at (888) 686-6468.

Need to know more so you can decide what's right for you? Check out all the different ways to take the lead at Girl Scouts. Or, see all the exciting possibilities Girl Scouts offers for girls of all ages and choose your adventure.

Costs

Girl Scout membership is $35 for the extended membership year which runs through September 2023.

There may be additional fees depending what your troop or girl decides to participate in. For example: troop dues, uniforms, camp and Girl Scout activities.

However, most additional expenses can be paid for with the funds your girl earns during the Fall Product and Girl Scout Cookie sales! 

Financial assistance is available to those who qualify.

Purchase of a membership is non-refundable and non-transferable.

Volunteer & Leadership Opportunities

There are plenty of volunteer opportunities for parents and adults, including being a troop leader to filling other roles within the troop.

Interested in starting a new troop in your area? We would be more than happy to help you get started. Just give us a call at (888) 686-6468 or send us an email.

Popular Activities

Girl Scouts offers programs to match almost any girl's interests. Whether it is camping and hiking, making a difference in your community, engaging in awesome STEM activities, exploring the environment, traveling the globe, learning first aid, running a cookie business, or building stronger friendships.

Girl Scouts also lets girls build a unique experience around their own specific interests to discover their inner G.I.R.L. (go-getter, innovator, risk taker, leader). 

Safety

Safety is a top priority for Girl Scouts!

All activities are supervised, and we provide our background-checked volunteers with training, support and program resources. We also follow comprehensive safety guidelines, tailored to individual activities and girls' ages.