People across the country celebrate Halloween on Oct. 31, but for Girl Scouts, it's also Founder's Day – the birthday of Girl Scout founder Juliette Gordon Low. Oct. 31 marks her birth in 1860 in Savannah, Georgia.
Juliette Gordon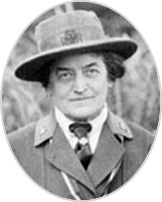 Low started the Girl Scout Movement in 1912, before women could legally vote, own property or even work outside the home. She was a trailblazer and the ultimate G.I.R.L. (Go-getter, Innovator, Risk-taker and Leader). She died in 1927, but her vision lives on through Girl Scouts who take action to make a difference in their communities and the world.
Every year, Girl Scouts across Kansas and across the country celebrate Founder's Day. Some of the celebrations coming up across the state include:
Birthday Bash Weekend – 6 p.m. Friday, Oct. 27 through 10 a.m. Sunday, Oct. 29 at Camp Mandan in Wright, Kansas. Girls and their families will be celebrating Founder's Day during this camp-out in southwest Kansas, where they'll enjoy archery, fishing, campfire fun, Halloween activities and a Halloween dance as well. K-12 girls and their families are invited; register online by Oct. 23. $35 per girl or adult.
Juliette Gordon Low Birthday Bash – 1 to 4 p.m. Sunday, Oct. 29 at Camp Double E in Emporia. K-12 girls and their parents are invited for an afternoon of fun as the girls decorate birthday treats, play games, make Girl Scout SWAPS (Special Whatchamacallits Affectionately Pinned Somewhere) and more. $15 per girl; snacks and patch included. Register online by Oct. 27.
Halloween/Juliette Gordon Low Birthday SWAP – 2 to 4 p.m. Sunday, Oct. 29 at the Wichita Girl Scout Office. K-12 girls are invited to exchange Girl Scout SWAPS (Special Whatchamacallits Affectionately Pinned Somewhere) with their friends while celebrating Halloween and Founder's Day. Each girl is asked to make Halloween or Juliette Gordon Low SWAP to share (approximately 50 per girl). Event includes dessert, punch, picture area, make-your-own SWAP station and other fun activities. There is no cost or registration required to attend. Details are on our event calendar.

Many Girl Scout troops also host their own Founder's Day activities and celebrations, or do a community service project in honor of Juliette Gordon Low. In the past, troops have donated items to their local food pantries, including birthday cake mixes and decorations, to celebrate Founder's Day.  
Learn more: